Access to Asahi Kasei Finechem Co., Ltd.
(Nobeoka Plant and Nobeoka Pharmaceuticals Plant)
Access to Asahi Kasei Finechem Co., Ltd. (Nobeoka Plant and Nobeoka Pharmaceuticals Plant)
Map of broad area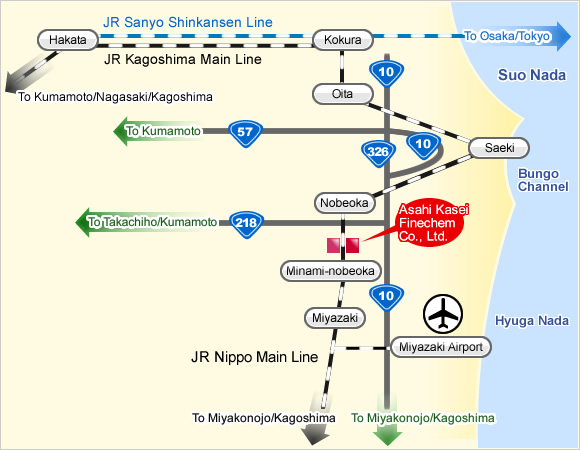 Nobeoka Works / Nobeoka Chemical Laboratory Address
2741-1 Byumachi, Nobeoka, Miyazaki 882-0861
TEL +81-982-33-2025
Nobeoka Pharmaceuticals Plant / Pharmaceutical Laboratory
6-2633-7, Asahi-machi, Nobeoka-shi, Miyazaki 882-0847
TEL +81-982-22-5722
By train On JR Nippo Main Line
From the south part of Kyushu,

take a train on JR Nippo line from Miyazaki Airport to "Minami-nobeoka". It takes about 17 minute on foot or 8 minutes by taxi from the station.
From the north part of Kyushu (* Please note that you may need to change trains at Oita Station.)

the nearest station is "Nobeoka". It takes 14 minutes by taxi or 33 minutes on foot from the station.
※1:

The actual travel time may vary depending on the traffic condition on the day. The traveling time by taxi or on foot is calculated based on the distance not taking the standing time due to traffic signals and congestion into consideration.

※2:

You are advised to check the latest information about the timetable and connections from the websites of relevant transport facilities.