Company Information
Aiming at a characterized fine chemical industry of high technology
Management policy
1. Solid foundation
In all occupational abilities including manufacture, technical development, sales, RC/C

2. Competitive power of comparative superiority
In perspective of quality, cost, service and RC/C

3. Dynamic organization
Dynamic and affluent working place, prosperous occupational life
Guiding Precepts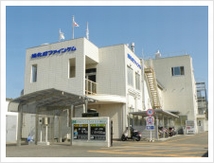 In order to accomplish these policies, we have set out and are practicing the following behavioral principles.
"The customer comes first."
Each employee "thinks", "creates", "acts" and "makes good".
All employees are "specialists".
Information sharing and "coordination" are implemented beyond the frames of organization.
Rewarding and pleasant working environments are offered.
"Speedy" actions are pursued individually and systematically.
Company profile
Company name
ASAHI KASEI FINECHEM CO., LTD.
Head office
Nakanoshima-Dai building, 3-3-23,Nakanoshima, Kita-ku, Osaka 530-6130
TEL +81-6-7636-3171
FAX +81-6-7636-3172
Tokyo Office
Hibiya Mitsui Tower, 1-1-2 Yurakucho, Chiyoda-ku, Tokyo 100-0006
TEL +81-3-6699-4539/4961
Osaka Development & Production Center
1-8-7 Fukumachi, Nishiyodogawa-ku, Osaka 555-0034
TEL +81-6-6472-3156
FAX +81-6-6472-3704
Nobeoka Works
2741-1 Byumachi, Nobeoka, Miyazaki 882-0861
TEL +81-982-33-2025
FAX +81-982-22-2936
Nobeoka Pharmaceuticals Plant
6-2633-7, Asahi-machi, Nobeoka-shi, Miyazaki 882-0847
TEL +81-982-22-5722
FAX +81-982-22-5890
Established
December 1960
Capital
325 million yen
Shareholder
Asahi Kasei CORPORATION (100%)
President
Kei Shimazu